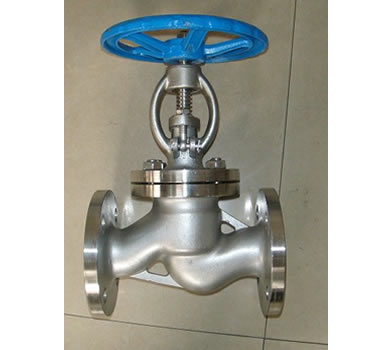 Products Info
Products Name: DIN Stainless Steel Globe Valve
Products Catalog: Globe Valve
Contact Detail
Tel: 0086-18006886307
Fax: 0086-0577-86879200
E-mail: sales@kcmtech-valve.com
MSN: Kcmtech.
Skype: fangwen10
DIN Stainless Steel Globe Valve Description
Design standard: DIN3352
Flange standard: DIN2532/DIN2543/DIN2544/DIN2501/EN 1092-1.
Fact to face end: DIN3202 –F1
Inspection and test: DIN3230
Body and bonnet connection.
PN10 TO PN64 by bolted bonnet(B&B),PN100 to PN320 use pressurized seal design.
Actuation: usually use hand wheel and worm gear box. Can use chain wheel and electric actuator according to buyers.
Back seat design
All our globe valves have back seat design. Normally, the carbon steel globe valve is fixed with a renewable backseat, for stainless steel globe valve, the backseat is machined directly in the bonnet or machined after welding. When the globe valve is at full open position, the sealing of the backseat can be reliable.
Stem design:
The stem is of integral forged design. The connection of stem and disc is T head type. The strength of connecting area is stronger than the T threaded part of stem. .
Stem nut design.
Usually ,the stem nut is made of ASTM A439 D2, also can be changed as per buyer's request. For large size gate valve, rolling bearing is fixed between nut and stem, which can reduce torque and make globe valve easy to open.
Seat design:
For carbon steel globe valve, the seat is usually forged steel. For stainless steel globe valve, usually use integral seat. Sealing face of the seat can be spray welded hard alloy if specified by buyers. Renewable threaded and welded on seat can also on optional.
If you have any enquiry about quotation or cooperation, please feel free to email us at
sales@kcmtech-valve.com
or use the following enquiry form. Our sales representative will contact you within 24 hours. Thank you for your interest in our products.